I knew I was going to enjoy Restaurant Marrakesh before we even found it in the Morocco pavilion.  Just before our dinner reservation I had noticed in the Times Guide that Belle would be in France for a meet and greet and then Aladdin in Morocco.  We met and took pictures with Belle and made our way through the Morocco pavilion to the usual character spot for Aladdin and Jasmine.  Tucked in a store we came across what looked like a fourteenth century study in the Arabic empire.  Immediately I saw the "One Thousand and One Nights" storybook opened to a page about Aladdin and his wonderful lamp.  By the window more stacks of books, a cabinet with an authentic mosaic tile door, an hourglass, ink jars, scrolls, and even what looked to be an astrolabe (a medieval astronomy device).  Maybe the authenticity of this room would go un-noticed to some but as a world history teacher I could not help but snap pictures and "teach" the people standing nearby.  How cool!
In any case, as we made our way through the pavilion shops and back out to the main area of the pavilion we finally noticed Aladdin, who was accompanied by Jasmine, and encountered one of my favorite character interactions ever.  Aladdin asked where I was from, to which Jasmine gave him a dirty look and I said New York.  Jasmine then lightened up and said, "Oh Al, didn't you and Abu go there once looking for the Big Apple?" We laughed, smiled for our picture and so I asked "Are you from Morocco?" to which Aladdin told me "No, Agrabah.  Just north of here.  East of the river Jordan."  I got a kick out of the entire interaction.
We had perfect timing to get to our meal with a few minutes to spare.  We easily found the restaurant and we were ushered to our seats moments after arriving for our reservation at Marrakesh.  The restaurant somehow manages to not seem very noisy although there are belly dancers and musicians playing for most of your meal.  While the menu is exotic and authentic there is definitely something for everyone here, including samplers for the undecided or hard to please.  From the authentic Moroccan tile work to the traditional costumes worn by hosts and waitstaff, the restaurant has a distinct Middle Eastern feel.  You can make reservations for lunch or dinner and the Disney dining plan is accepted here.  I consider this a must for all- both visiting the Morocco pavilion and dining at Marrakesh!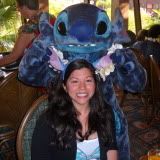 Melissa has created Chip & Company's 'Guide to Walt Disney World: Restaurant & Snack Options' posts as well as chronicling her Disney baking (and cooking) exploits In the Kitchen. She also writes original articles about her experiences visiting Walt Disney World and finding Disney magic in her home state of New York.  Melissa is a World History teacher and you can find her on tumblr. Oh & you should probably know she believes in fairytales.