This Summer new Haunted Mansion inspired Mouse Ears materialized at the Disney Parks. The gorgeous Tightrope Walker Minnie Ears were an instant hit, and sold out fast! I'm happy to report that these beauties have no appeared online at shopDisney though.
The Haunted Mansion Tightrope Walker Ears Headband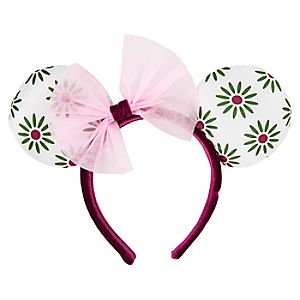 Balance your fashion sense with your love of the Haunted Mansion with this ears headband inspired by the Tightrope Walker portrait in the stretching room. The floral design on the ears echoes the design as the dress of the precariously perched girl.
These ears are absolutely gorgeous, and capture the essence of one of my favorite characters from the infamous Disney Parks Attraction. The soft pink organza bow, and berry colored velvet band add a touch of chic just like the Tightrope Walker herself. They are available online for $24.99, with a limit of 10 per customer.
Will you be grabbing a pair of the Tightrope Walker Minnie Ears before they disappear into the great beyond?
This site contains affiliate links to products. We may receive a commission for purchases made through these links. Also As an Amazon Associate, I earn from qualifying purchases.