The Rainforest Café is a nationwide chain of restaurants.  (You can find more information on whether there is one near you at www.rainforestcafe.com, the chain's website.)  There are two on Disney property, one at Animal Kingdom and one in Downtown Disney.   In Downtown Disney's Marketplace, Rainforest Café serves breakfast, lunch, and dinner.
The décor inside is, well, rainforest.  There are animatronic animals and a great big saltwater tank to entertain and amuse, especially children.  The menu here is pleasing for all with specialty items like lobster dip and lots of great flavors and marinades on the beef, fish, and chicken dishes.  There are also vegetarian and kids options.  Rainforest Café does not accept Disney Dining Plan.
While I have never eaten at either Rainforest Café in Disney World I have been to one back at home and it was a fun experience for me.  However, I am not sure I would recommend this for couples.  With so many choices in Disney World, and the possibility you have one at home, I would check out the locations on the website first before making my Advanced Dining Reservation here.
Menu: Lunch & Dinner
Photo Credit: Ken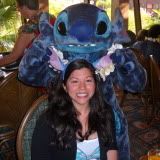 Melissa has created Chip & Company's 'Guide to Walt Disney World: Restaurant & Snack Options' posts as well as chronicling her Disney baking (and cooking) exploits In the Kitchen. She also writes original articles about her experiences visiting Walt Disney World and finding Disney magic in her home state of New York. Melissa is a World History teacher and you can find her on tumblr. Oh & you should probably know she believes in fairytales.