Hollywood Studios – Shows, attractions and tours offering behind-the-scenes glimpses of Hollywood-style action.
Hollywood Blvd
Echo Lake Area
Dinosaur Gertie's Ice Cream of Extinction
Min and Bill's Dockside Diner
Peevy's Polar Pipeline
ABC Commissary
Backlot Express
Toy Story Pizza Planet
Mickey Avenue
Sunset Blvd
Anaheim Produce
Catalina Eddie's
Hollywood Scoops
Rosie's All American Cafe
Fairfax Fare
Toluca Legs Turkey Co
KRNR The Rock Station
Pixar Place
To view all of our Walt Disney World Restaurant pages be sure to use the navigation at the top of the page.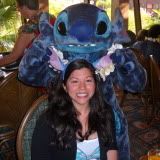 Melissa has created Chip & Company's 'Guide to Walt Disney World: Restaurant & Snack Options' posts as well as chronicling her Disney baking (and cooking) exploits In the Kitchen. She also writes original articles about her experiences visiting Walt Disney World and finding Disney magic in her home state of New York. Melissa is a World History teacher and you can find her on tumblr. Oh & you should probably know she believes in fairytales.