Please note: some posts may contain affiliate links which means our team could earn money if you purchase products from our site
There has been no better time for the play about George Washington's right-hand man to come to Disney+.
The Broadway-to-Disney+ play has arrived to our screens at no better time. With the Fourth of July approaching and many Americans hunkered down, Hamilton is a breath of fresh air when we desperately need it.
Nervous some of the luster of a live performance is lost? Fear not. The cheering crowd, some amazing close-ups, and the stunning sound quality is sure to make you feel as if you are in the front row Richard Rodgers Theatre – where this showing of Hamilton was filmed in June of 2016.
King George III is rightfully the first voice you hear – and you have him to thank for this show! If he looks familiar to Disney fans, Jonathan Groff is our dear Kristoff (and Sven) from Frozen.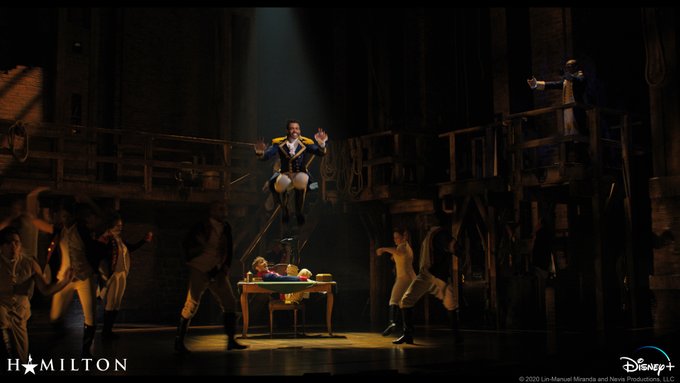 If you have been lucky enough to have seen Hamilton live, watching this version feels like a completely different experience. The camera does a wonderful job keeping up with all the action on stage. So whilst you may have missed something during your live showing, this recording will make sure you never miss a thing.
Interested in watching this with your little ones? Though the two 'F words' have been removed, there are other swear words that appear. They quickly enter and exit within the lyrics and do nothing to take away from the content around them.
The play is a wonderful history lesson in the founding of America and the battles won and lost – as well as the people involved. So often history is reduced down to dates and events. Hamilton brings these events and people to life and gives them a vibrance and color that is often not seen.
Don't throw away your shot of watching this lyrically magnificent Broadway masterpiece with your family this 4th of July weekend. Hamilton is live now on Disney+!
Note: Make sure to keep your eye out for the 'Behind the Scenes Documentary'!
Photo: Courtesy of Disney