The newest Minnie Mouse handbags from Dooney and Bourke, were designed just for the Minnie Rocks the Dots celebration. These gorgeous new bags feature beautiful elements tucked within the bold polka-dotted print. These new purses definetly stand apart from the usual Dooney prints too.
Each silhouette is a printed canvas, featuring Minnie's iconic red and white polka dots! The bags have a black color block on the bottom, with the original Disney Diva's signature written on the corner. The emblem on the front is the vintage swan Dooney and Bourke logo, which I feel adds an extra dash of allure to the collection. Of course there's still my favorite detail about the entire collection! If you flip the bags over, you'll find an adorable Minnie Mouse tail, curved into the shape of a heart! I mean, how much cuter can you get? You'll find this print in three different styles, a Crossbody, wallet clutch, and tote!
The tote, and wallet clutch are actually available still on shopDisney too!
Minnie Mouse Rocks the Dots Tote by Dooney & Bourke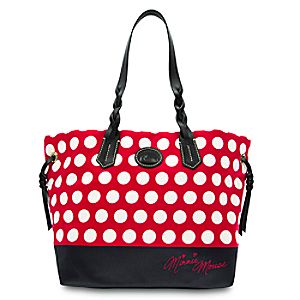 Minnie Mouse Rocks the Dots Wallet by Dooney & Bourke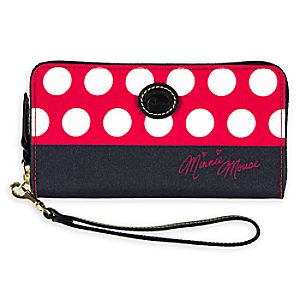 This is one of my favorite Disney Dooney designs in a long time, and I'm so excited to #rockthedots with these new styles!
What do you think of the newest Minnie Mouse Handbags from Dooney and Bourke?
This site contains affiliate links to products. We may receive a commission for purchases made through these links. Also As an Amazon Associate, I earn from qualifying purchases.